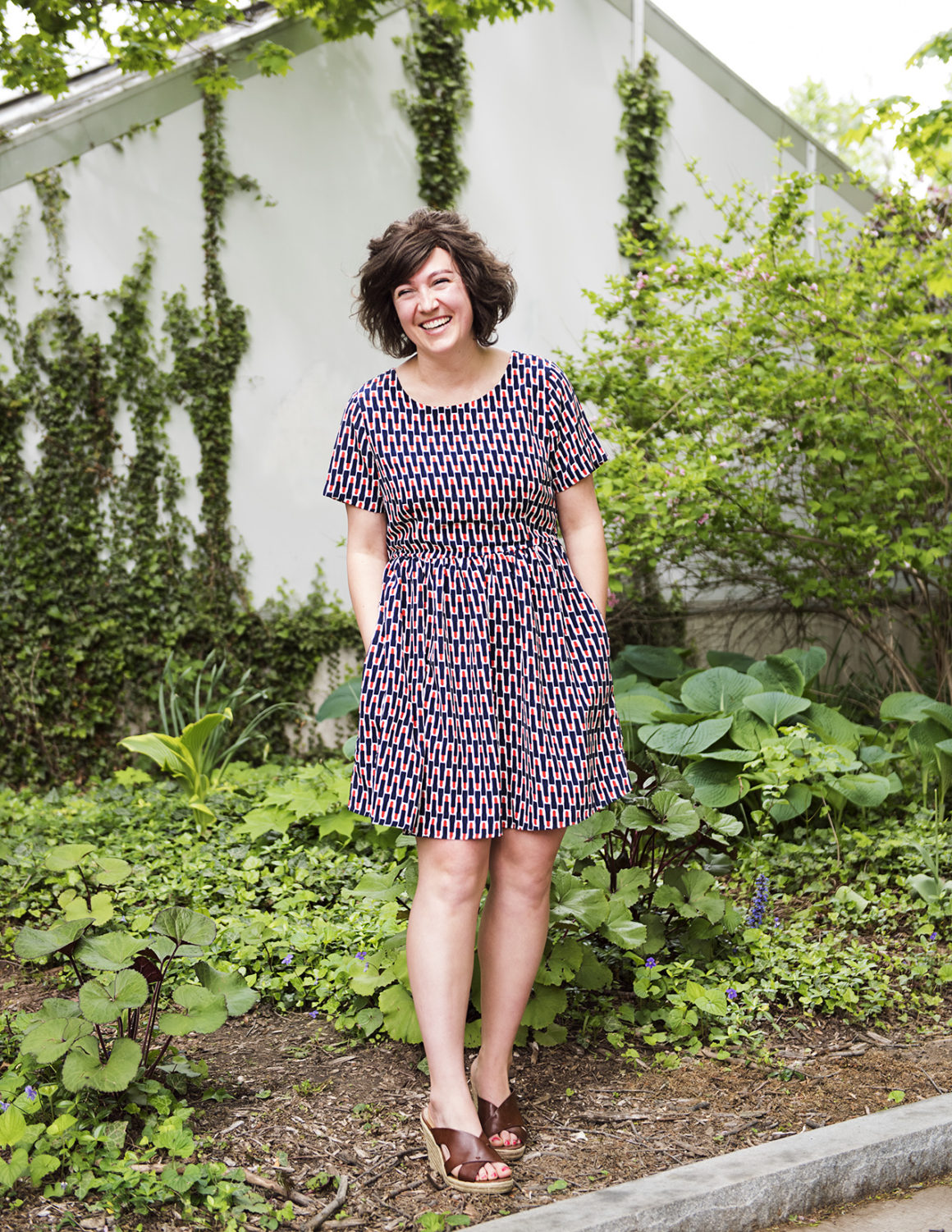 Name: Sarah Knight
Profession: Graphic Design, Promotion of Female Creativity in Rochester
Title: Owner of Sarah Knight Design and Founder of ROC Girl Gang
Location: Lamberton Conservatory
Wardrobe & Jewelry: Peppermint
Interview by: John Loury Photography: Amy Moore
1. What life events have had the greatest impact on who you are today?
I would say getting married young. I am 33, and I have been married to Rusty, who I met at Houghton College, for 12 years! We often talk about how we grew up together. This was incredibly hard, but at least we had each other. Growing up is rough; you graduate college and get your first job and start paying bills (or trying, at least), and you realize that real life is not as glamorous as it sounded. We realized that together. But we also encouraged each other to keep going, mostly because there was no turning back. We slept on an air mattress and shared a closet and had a $50-a-week grocery budget. We were just two kids who learned how to "adult" together.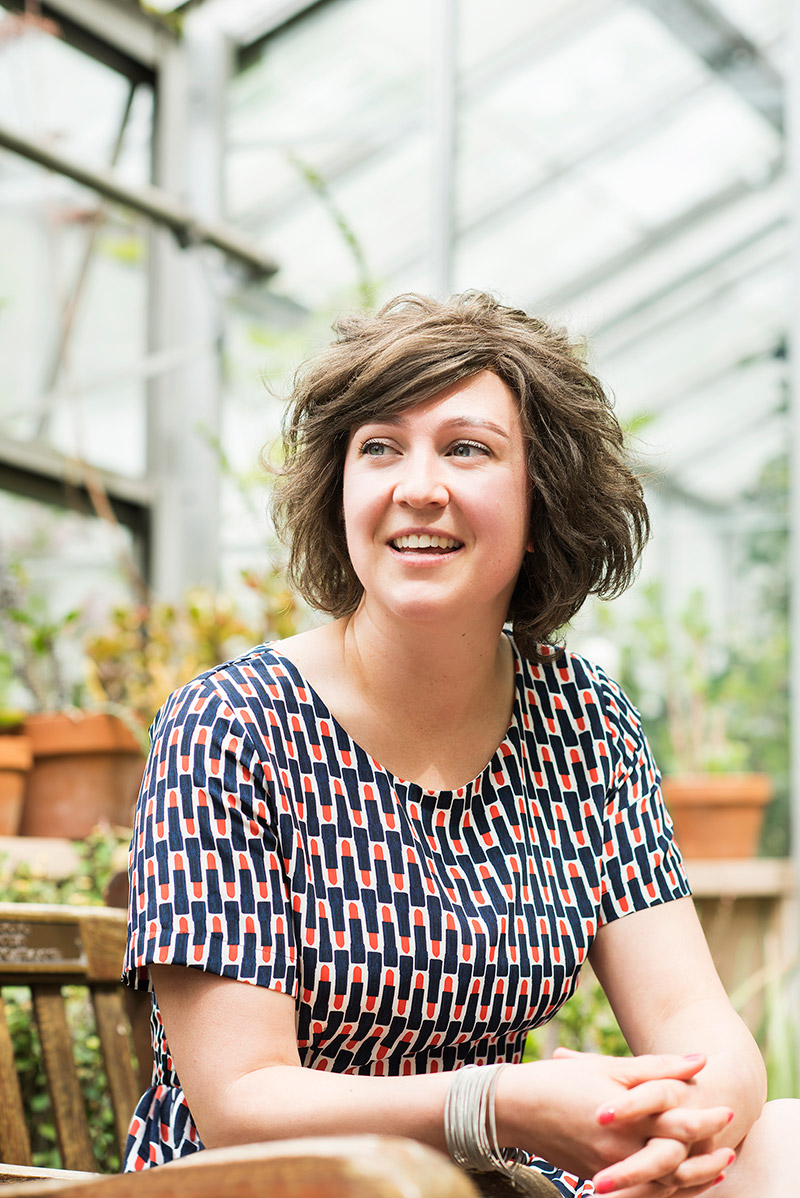 2. How do you define success? And What metrics do you use to confirm it?
If you've figured out a way to do what you love. Also, to have an idea and then see it to completion. Lots of our ideas don't see the light of day because of self-doubt. Bringing an idea into the light is brave and admirable.
Personally, to love others around me well. At the end of my life, if people can say, "She loved God and she loved others well," I would consider my life a success. Everything else is gravy.
3. Where do you draw inspiration from?
First would be nature. I have to get outside every day. The colors, the fresh air, the sounds; it recharges me, calms me, and inspires me.
Next would be my boys, Kingsley, age six, and Gideon, age two. They notice the little things. They notice EVERYTHING. When they go outside, they immediately look up at the sky. When did we stop doing that? My idea of a walk is to get from point A to point B as quickly as possible. But when I'm with my sons, it's the adventure in between. They check under rocks for bugs and worms, they make sure they have the best walking stick, they inspect every tree, pet EVERY dog, and stop to watch an airplane fly by. Everything takes twice as long—no, longer, actually. Last summer, we spent a whole day checking out the metamorphosis of a cicada. It was seriously amazing. I LOVE that my boys get excited about this stuff. They inspire me to be easily impressed. It's a good way to live life.
Last but in no way least would be ROC Girl Gang. These women inspire me daily. They impress the socks off me. They make me want to do better. The women of Rochester cannot be stopped.
4. What is it about your approach that is unique or separates you from others?
My goal for ROC Girl Gang was (and is) to involve as many women as possible. I fully embrace the "community over competition" approach: to not see each other as a threat or competition but as a way to grow and get better. Every interview I do involves THREE different creatives: the interview subject, the photographer, and a letterer who creates art from a quote of the interview subject. Everything is a collaboration. And that's why I think ROC Girl Gang has done so well—because so many women are involved. It's not just me; it's not me at all, actually. To give women something they can have ownership over. To say, "I'm in Roc Girl Gang" … it's becoming a thing!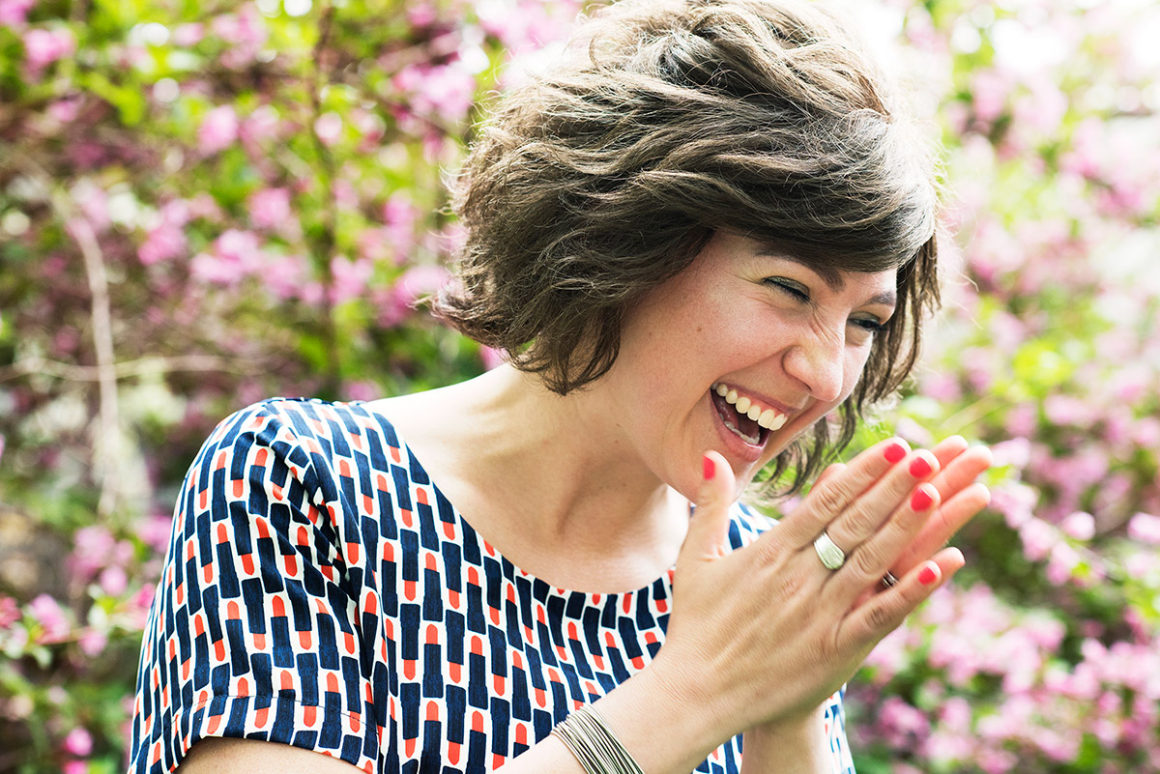 5. How do you use information (data) to make decisions related to your profession or craft?
Honestly, the words "information" and "data" make me want to skip class and go back to bed! I will say, a lot of ROC Girl Gang consists of what I'm personally interested in. I have a persona that I use. I call her "ROC Girl." She's basically a cooler version of myself. She's out and about, she's creative and stylish, and she's connected with community happenings and has some expendable income (OK, a MUCH cooler version of myself). I'm always saying, "Would a ROC Girl want to do this? Would a ROC Girl be interested in buying this?" I can't believe I'm saying this out loud.
6. What does being a Rochesterian mean to you?
It's an honor. This is the only city I've lived in. I grew up in a hamlet called Adams Center near Watertown. So to be a part of this, to be known as a Rochesterian, in a city that is bursting with just energy, growth, and innovation, is truly an honor. I'm also excited to live here on the cusp of a city with so much new greatness beginning to show. Innovators are popping up everywhere around the city and in many different areas. I find that very exciting.
As much as we like to complain about the weather, we are proud of this city! The creative community is impressive, to say the least, too. There is so much creativity, innovation, and hope. Rochesterians are always striving to make this city better, to strengthen the community and improve lives. I'm happy to be a part of it in some small way.
As Rochesterians, we love going to NOTA and to the Public Market. So many things in the last couple years have popped up in those areas. We enjoy showing our boys the city, and they love it. So it's fun; it's very much home.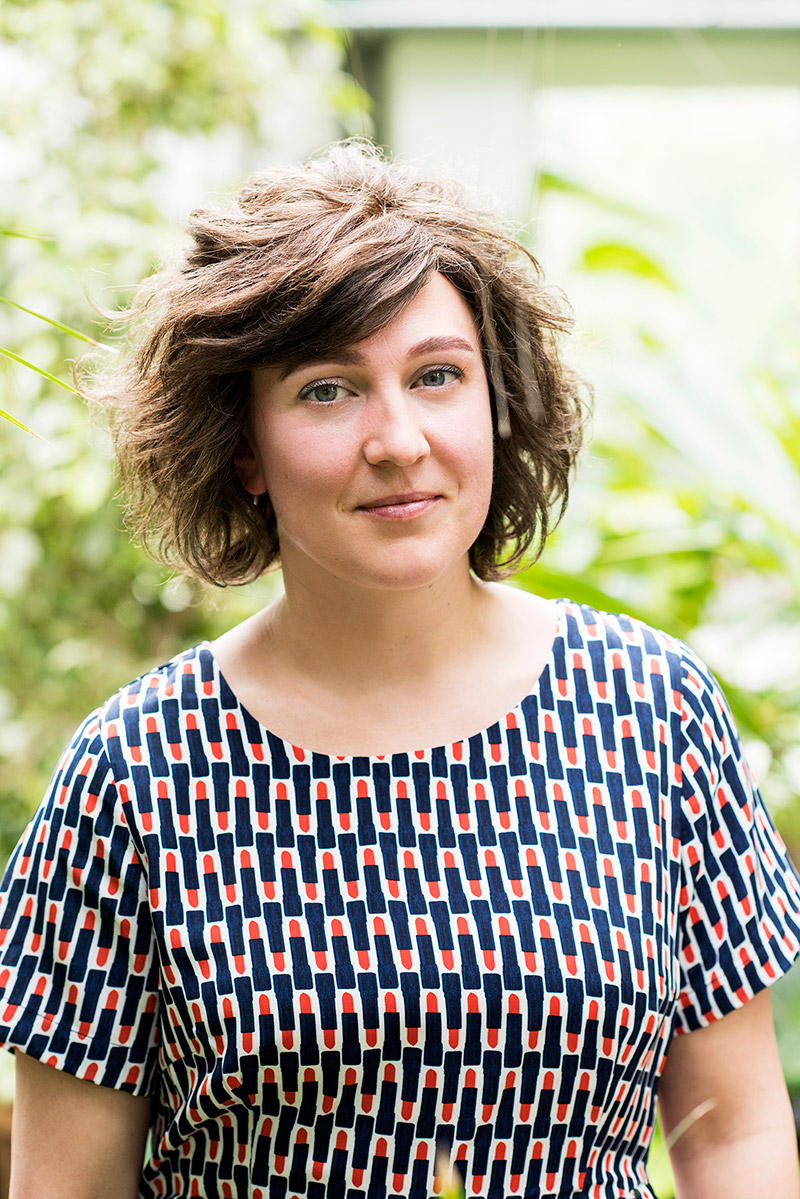 7. What are the greatest challenges Rochester faces in terms of future growth and success?
In most cities, there's a great divide. Rochester is no different. I live less than 10 minutes away from great need. We all need to care a little more … a lot more. Plain and simple. We belong to each other, and we need to do a better job of taking care of each other. I know I am doing that with Rock Girl Gang, and I'm always trying to think of more ways to do that. Inclusivity is the key. We all need to do our best to take off our blinders and try to see things through the eyes of others, too.
8. What would you like people to know about your passion, ROC Girl Gang?
I think we are just getting started. It's only been a year. My reason for creating ROC Girl Gang was a little selfish at first: I wanted to reestablish a creative connection for myself. As a stay-at-home mom, you still need balance; I'm a graphic designer two days a week too. ROC Girl Gang helps that other part of me to feel fulfilled. At ROC Girl Gang, we're providing a platform for women who might not otherwise have one. We're highlighting impressive women in many different areas, especially creatives, makers, and entrepreneurs. I love rooting for the underdog, seeing people grow, and encouraging others. Each day, we also share content from the women we highlight as well.
9. If someone were to film a movie about your life, what actor/actress would you cast to play you?
Oh, gosh, I'm not sure what D-list celebrity you could dupe into doing that. I'm with my boys most of the time, and we have a pretty easygoing lifestyle. Remember, my boys and I watched the metamorphosis of a cicada for an entire day, have fun making that into a movie! I will say, though, that when watching reruns of 30 Rock, I have more similarities to Liz Lemon than I would care to admit.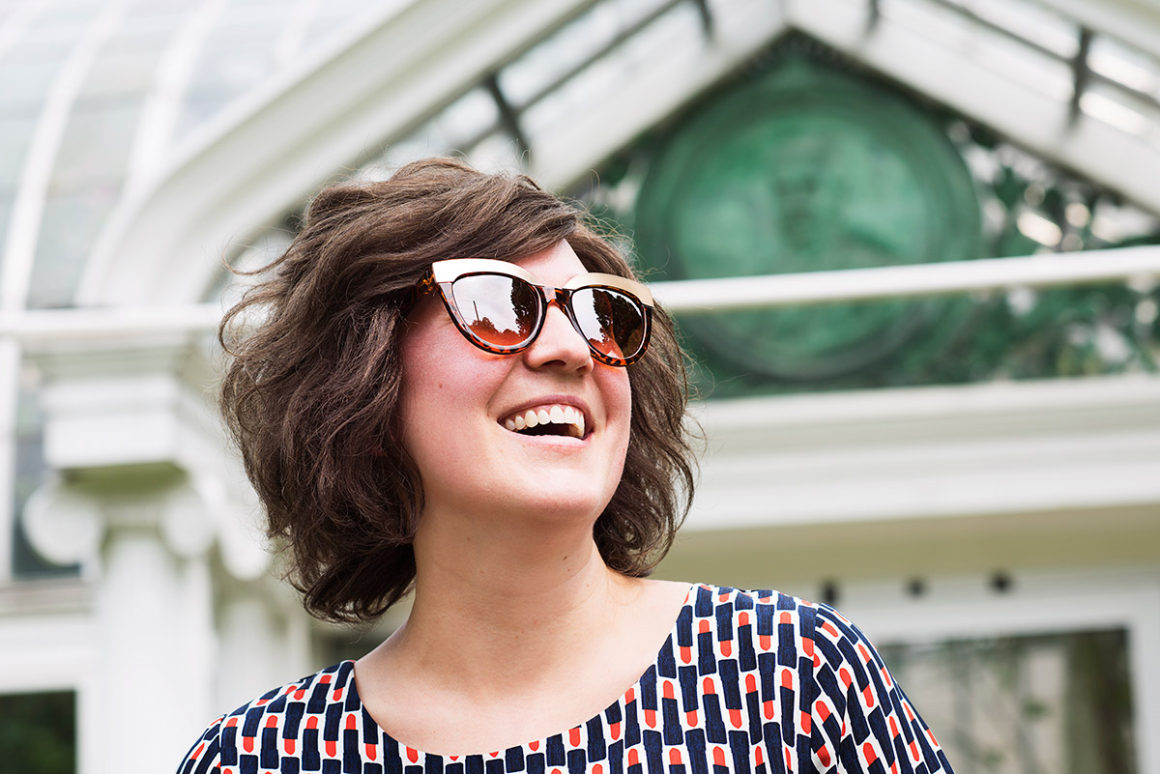 10. Do you have any nominations of individuals who ROC Our City?
Yes! Just read the ROC Girl Gang blog … I NOMINATE EVERY SINGLE WOMAN on it! Seriously, I can't choose! They are inspiring, hardworking, and do a whole lot for the local community! If I had to rattle a few off, they would be:
Tanvi Asher – She does amazing things! She's a fashion designer and businesswoman. She's opened up brick-and-mortar retail stores like Asher Bridal and Peppermint in Rochester, too. She's doing well. She gives to charity and mentors a lot of women.
Molly Flaherty – She owns M/Body and is always doing things to help people and different causes. She has seven children! Any moms who can work full time, have kids, and make it all look good is a hero in my book, and there are a lot of them.
Sarah Rutherford – I'm really excited to see Sarah Rutherford's new work called Her Voice Carries. It's a series of murals that spotlight local women who work to lift up the voices of others. When the project is complete later this year, a mural will adorn a wall in each quadrant of the city, plus a fifth in Center City. She's working really hard on what I talked about earlier, bringing lesser-known voices of inner-city women to the forefront.
As for the dudes, I would nominate Steve Carter and Justin Dusett from Explore Rochester. They've made #explorerochester a common phrase and bring the online community together through the ROCinstameets. They helped give ROC Girl Gang a giant platform when they featured me last year on their feed. I'll always be grateful to them for that. They're both super talented in their own right, too … I just wish they were girls!